Leisure activities
+ Travel and other cultures
Travel Bug, to see places and people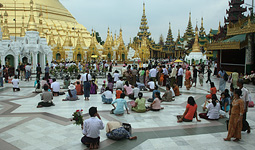 Born in England and studying French and German there were numerous opportunities for travel into Europe, particularly with annual holidays with my French pen-friends family, and being selected to attend a sport camp in Austria.
Moving to Zealand in our early 20s, and particularly a four-year appointment at Ngata College in Ruatoria, meant an opportunity to experience the culture of our new home, and allowed travel to Australia and Fiji, and the organising of my French class's trip to Noumea.
Two opportunities to exploit the travel bug came with the Commonwealth scholarship for a year's teaching in Perth High School, Scotland, and the offer of two year's leave of absence to take up a post at Raffles Junior College, Singapore. From Singapore we ventured a little into Malaysia, and took our three children on three-week back-packing tour of France, Switzerland, Italy, Germany and Austria.
But it was the move to Brunei that crowned our ability to travel - four holidays a year and none of them spent at home. So we have explored Moorish Spain, Turkey and, more often, Thailand, Cambodia, Vietnam, Laos, Myanmar, China and East and West Malaysia.
Since returning to Brunei we visit England annually to visit family, finding somewhere interesting en route
+ Outdoor Pursuits
Mild adventure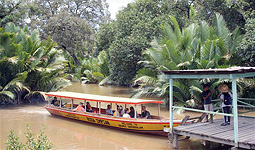 In New Zealand we began to enjoy tramping with our young family - mostly in the local Hawkes Bay national parks - sometimes staying in the huts, and the outdoor life that it is easy to enjoy here.
In Brunei this extended to rainforest explorations, snorkellling and learning to scuba dive.
+ Digital Imaging
Photography, video and editing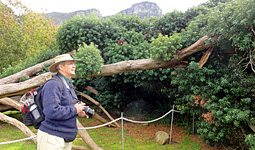 From early teens photography has been a passion, which now has expanded into all aspects of taking and processing digital images and video. Most of my publishing and graphics work is based on photos nowadays, using various computer applications. When I started with computing my enthusiasm was for vector graphics, but then computers and the internet were not so capable of handling bit-mapped images.
+ Computing
Computing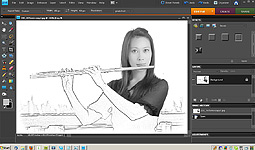 The exploration began in 1976 with our move to Singapore - higher salary and lower prices! Within the two years we had bought three computers and I was programming in Basic on the Sinclair Spectrum and BBC B. On returning to New Zealand I found my school was getting computerised and as I was in charge of all AV supplies and maintenance was able to get involved with that area, though teaching French and German. A local private school was interested in setting up a new network and asked for advice. This led directly to my appointment as Deputy Principal of that school, with the brief to install a networked suite of computers, develop a curriculum, and start teaching it.
While working with BBC and Archimedes in the classroom, I also installed a small network of "IBM" machines for administration use, an wrote the database software for student records. With a friend, we wrote educational software for our students in Basic. Fascinated with the internet and its first NZ presence in the form of bulletin boards, I soon made the opportunity to design a school website, which basically featured the pages of the elaborate and colourful prospectus.
A wonderful feature of the Archimedes was the fine graphics and publishing software, integrated in a way that Adobe has now focused on. It was here I developed skills in publishing and vector ilustrations - which could then be carried over to Windows based software. Ultimately computing at that school developed into two internked classrooms - a suite of Archimedes for teaching and a suite of Windows computers for training in office (and university) skills.
Nowadays I enjoy working with Adobe In-Design, Flash, Dreamweaver, Photoshop and Illustrator, and have developed skills in Word, Excel, Powerpoint. For internet use I prefer Mozilla software - Firefox and Thunderbird - and do little database work in spite of a long period earlier of programming in Dbase, mostly because of the unintuitive interface of Access.
+ Music
Music society, choir work and Scottish dancing!
My wife and I have always enjoyed music, and first sang together in the Waiapu choir at a hui topu in Ruatoria. This was followed by choir work in our local Anglican churches, and then in Brunei, to joining the "Serunai Singers" for regular public performances.
We joined the committee of the Brunei Music Society to assist with the organisation of (classical or jazz) concerts by visiting musicians, and we are still associated as I continue to manage the website and publish the programmes.
We began Scottish country dancing in Hastings and so loved the music and intricacy of the dance that we continued in Brunei, even performing in front of Her Majesty Raja Isteri!